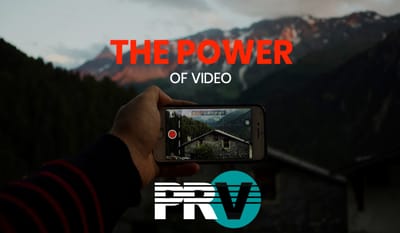 No matter what your business - video can help you - to inform, to create awareness of your brand and your products, to advertise new products, events, services, sales, your new opening hours, or perhaps you are relocating.
If you are not using video right now, here's why you should be.
And there are some amazing statistics:
Financial advisers who blog and vlog make on average 67% more leads using video
57% of investors are interested in interacting with their advisers on social media - including video
E-Commerce sites featuring product videos report an increase in conversion rates of up to 85%
46% of consumers said they made a purchase as result of watching a brand video on social media
70% of people who used social media as part of their research into purchasing a car, said they were influenced by video
Bookings in the hospitality industry are 67% more likely to happen when a video tour is available
54% of customers said they watched a video before booking accommodation
1 billion restaurant visits worldwide are influenced by online marketing - video is No.1
85% of buyers want a real estate agent who uses video
Home shoppers are more likely to buy if influenced by a video campaign
On average consumers spend 2 minutes longer on retail sites that use video
Online retailers who use video on their sites and social media boost customer browsing by 340%
70% of sports fans who like or follow a brand online say they are open to sharing brand content, buying goods or engaging with social posts
40 minutes is the average time travellers spend online looking for holiday a flight or a trip - video here is king!
There are 100 millions unique travel seekers globally every month of the year
Convinced? Call Us ...
We offer individual, weekly and monthly packages to promote your business:
Product launch
Showreels perfect for many industries, including real estate, hospitality, travel and retail
Special offers and deals
Seasonal offers and greetings - Christmas, Easter, special days or weekly, monthly events
Industry related